Nike D-Tack 6.0 Lineman Gloves
star_border
Receive 70 Loyalty Points
when buying this product, converting to £0.70 to be used on future orders.
sentiment_dissatisfied
Uh oh, that option has proven popular!
Drop us your email address and we will let you know when it's back stock!
You have successfully subscribed to this product
local_shipping
Order before 2pm today and receive your order on 20/05/2022*
see delivery tab below for more details
Don't forget the essentials!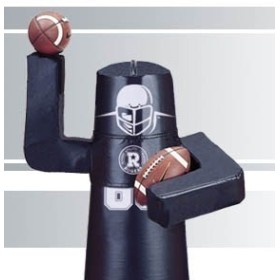 NIKE's skinny Dri-FIT® bands fit around your biceps, elbows, or calves to keep sweat from ruining your game. The Dri-FIT material wicks away moisture to keep you cool, dry, and comfortable while the flat-seam construction eliminates chafing. Their 9-inch circumference stretches to 21-inches for a snug, comfortable fit.
• Fabric: 53% Dri-FIT polyester/25% nylon/22% rubber
• Skinny fit for support at bicep, elbow and calf muscles
• Machine washable
• Sold in pairs.
No Stink Sports Glove Deodoriser
Keep it fresh with No Stink!
Finally... A glove deodoriser that actually works!
No Stink Deodouriser; the perfect solution for extending the life of your sports gloves, whilst keeping them fresh, dry and stink free! After your training session, simply place the deodourising pouches inside your sports gloves. The natural properties of No Stink will absorb the moisture inside your gloves and remove the bacteria that cause bad smells.
This is the best selling version which has a mild fragrance. With an original Lemon scent the Glove deodoriser is sold in packs of two.
WHY NO STINK?
NATURAL- No Stink pads are made from non-toxic, eco-friendly bamboo charcoal.
ABSORBS MOISTURE - Bamboo charcoal is a highly porous material that is effective at removing moisture, which in turn prevents buildup of bad odour.
ANTI-BACTERIAL - No Stink pads remove moisture and prevent nasty bacteria from growing in the area.
RE-USEABLE - Use the pouches wherever you need to - as a boxing glove deodoriser or for shoes or a sports bag. Simply place the pouches inside and leave them overnight.
RE-ACTIVATE - To ensure No Stink pads last as long as possible, place them in the sun once per month for 1-2 hours to recharge. You can do this for up to 1 year.
RE-CYCLE - Once your No Stink product has reached the end of its life cycle, cut open the bag and sprinkle it on the soil in your garden. This will help plants absorb nutrients from the soil.
Size of each glove deodoriser, 13cm x 10cm
Nike D Tack 6.0 Lineman Gloves
Protective gel padding placed to allow natural movement
Strategically place fingertip seams reduce distractions
Sticky Hydragrip palms help maintain grip in wet conditions
Adjustable cuffs for a custom fit
Data sheet
Glove Type

Lineman

Department

Equipment
Specific References
ean13

887791170026
Shop now, pay with Klarna.
We are offering 2 pay later options via Klarna which will be automatically available at checkout!
Pay In 3
Three equal payments are automatically collected every 30 days from your debit or credit card. You get all the "closure" of a full upfront payment, but with the cash-flow benefits of spreading the cost. The total amount charged to your card is no greater than if you simply paid for the entire purchase up front (provided the agreed payment schedule is followed).
Pay later in 30 days
Once your order is confirmed, you'll receive an email with payment instructions within two days from Klarna. You'll then have 30 days to try on your order and only pay when you're happy.
Who are Klarna?
Klarna are the provider of smooth payment services to more than 100,000 online stores. Over 60 million consumers worldwide have trusted Klarna to securely handle their payments.
Am I eligible / Will I be accepted?
You must be at least 18. You must be a UK resident to use Klarna. Whilst these options are widely promoted, they are subject to your financial circumstances. When choosing Pay later, our soft-search assessment will not affect your credit rating. 
Manage my Klarna account
You can review your orders anytime by logging in to www.klarna.com. If you need further assistance, visit Klarna's customer service.
Remember to make payments on time. Not doing so could harm your credit rating.
Delivery Options
local_shipping

Standard Delivery

for delivery between 24/05/2022 and 25/05/2022
local_shipping

Next Business Day Tracked

for delivery on 20/05/2022
local_shipping

Saturday Delivery Tracked

for delivery on 21/05/2022
For more information on our Delivery Options
view delivery options
We think you'll love these...

Product available with different options

Product available with different options
check_circle Why buy from Football America UK?
Order before 2pm Mon-Thurs to receive your order the next working day.

Need to return and item? Our 30-day hassle-free returns make your life easy!

You can trust us, with over 800 reviews on Feefo with an overall rating of 4.8 / 5!